Twenty-One Candles (Coming October 15, 2014!)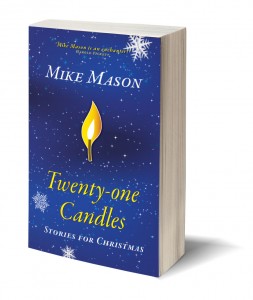 For three decades Mike Mason has been circulating Christmas stories to a select group of his closest friends.
Now he's sharing these classic tales with us.
Advance praise for Twenty-One Candles:
"The best moments of Christmas are spent in the evening by the fire, telling stories… stories of courage and conviction, of discovering anew 'peace on earth; goodwill toward men.' My friend, Mike Mason, has penned a collection of heartwarming stories to be told time and again, every Advent. May Twenty-One Candles become a Christmas classic for years to come!"
~Joni Eareckson Tada, Joni and Friends International Disability Center
"It has been my delight to listen as Mike Mason read aloud many of these stories—a score and one more of narratives that circle like candlelight around a season when light is scarce. Now, reading them, they bring a unique brightness, because in one way or another they illuminate more than just snow scenes and families around hearth fires. With a light and often whimsical touch, Mason's tales speak of the way 'people dwelling in darkness have seen a great light' (Mt 12:16)."
~Luci Shaw, author of Breath for the Bones: Art, Imagination and Spirit
"As a young Christian and a young writer, the fiction of Mike Mason always encouraged and inspired me. This collection of his Christmas stories does the same. Strong stories, bright stories, heart, and soul, and life stories that can be read anytime of year, but especially during Advent and Christmas. Pick up this little book and let Mike's imagination and the the spirit of God fill you with light."
~Murray Pura, author of The White Birds of Morning
"Twenty-One Candles should be as mandatory as mistletoe and manger scenes. Mike Mason's collection of funny, poignant, and inspired stories is a rare gift. The Christmas Spirit is alive and well, my friends—read all about it!" ~Carolyn Arends, recording artist and author
"Twenty-One Candles captures the spirit of Christmas in a way all the commercial glitter never will. Mike shows the love and delight of the Messiah resonating in the hearts of those who need love and joy, and find them." ~David Gregory, author of Dinner With a Perfect Stranger
"In the tradition of our favorite Christmas tales, passed down from such masters as Charles Dickens and O. Henry, Mike Mason has lit twenty-one Candles to shine fresh light into our darkness. Some shine with a mythopoeic ambiance, while others glow like mirrors from day to day life. They celebrate Christmas in ways you'll want to share. Gather around the Christmas tree; put another log on the fire. Mike Mason's stories want to be read aloud—read to families, to friends, to church groups—and you'll delight in sharing them."
~D.S. Martin author of Conspiracy of Light: Poems Inspired by the Legacy of C.S. Lewis
"If you haven't read Mike Mason you live an impoverished life. Here is a book of frosty magic, wings of light, and the enchanting music of wisdom. With characteristically honest and beautiful prose, Mason has given us a gift that will warm hearts and kindle contemplation. These are stories that both refresh and rebuke. Read them and be awakened to joy."
~Andrew Case, author of Water of the Word
"These short stories are filled with charming, relatable characters discovering the spiritual origin and inspiration behind Christmas: Jesus Christ. Twenty-One Candles skillfully draws readers into its stories, inviting us to look beyond the veneer of a commercialized holiday season. Scratching the surface of our Christmas tradition, Mason captures glimpses of a loving God yearning to restore relationship with His children."
~Leonard Buhler, President, Power to Change
"With Twenty-One Candles master storyteller Mike Mason has carved out another classic. Truly a book for everyone that will captivate and inspire with its humor and unique way of spreading the true spirit of Christmas."
~Wally Armstrong, author of The Mulligan
Adventures In Heaven
What is it like in heaven? Is there really a river of life and a holy city? And does the apostle Paul wear little wire-framed glasses? Or how about Mary–does she look like her Son? The only physical description of Jesus in the Bible tells us, "He has no beauty of majesty to attract us to Him, nothing in His appearance that we should desire Him" (Isaiah 53:2). Is this true?
All these questions and many more are answered in Mike Mason's new ebook Adventures In Heaven. Read the true story of a man who has a remarkable gift from the Holy Spirit: the ability to go to heaven in visions. In one fascinating story after another this book opens the windows of heaven on detailed vistas of the New Jerusalem, the throne room, the altar, heavenly plants and animals, and meetings with biblical figures such as John, Ezekiel, and Moses.
These visions are in agreement with what we know of heaven from scripture. Does the Holy Spirit also witness to their truth? Read for yourself and see.
AVAILABLE ONLY AS AN EBOOK for Kindle, NOOK, and other digital platforms.