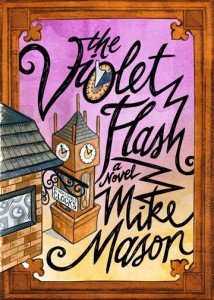 There's a rip in the blue umbrella, and time—and Chelsea—are slipping through!
One moment she was there, the next moment she was not, and Ches Cholmondeley was watching when it happened. And he learns of other mysterious goings-on: For three days in a row the world's atomic clocks have lost a second, resulting in bizarre accidents ranging from dropped casseroles to plane crashes. Are these events related? What's a brother to do?
Figure out a way to get his sister back, of course. In search of answers, Ches befriends the local clockmaker, Myron Stinchcombe, who knows a lot about time, and seeks out Sky Porter, who knows a lot about, well, everything.
But time is running out! And Ches is torn, knowing that the very deed that can save the world might also keep his sister from ever returning to it.
This book is the sequel to The Blue Umbrella.
"Reading this magical work makes me wish for my own blue umbrella, makes me hope that this series will join others in the minds of readers who loved Madeleine L'Engle's sci-fi writings. As L'Engle herself insisted, this kind of fiction is not just for children. It's for people. People like you!" -Luci Shaw, author of Breath for the Bones and The Angles of Light.
"I fell head-over-heels in love with The Blue Umbrella. And this time around is no different…. Readers once again take a journey that will have their hearts beating, their tears at the ready, and their brains working overtime as they find themselves immersed in the most beautiful, fantastical book they've read in a very long time!" -Amy Lignor of Once Upon a Romance
READ AN EXCERPT Spoiler Alert! (for those who have not read The Blue Umbrella)