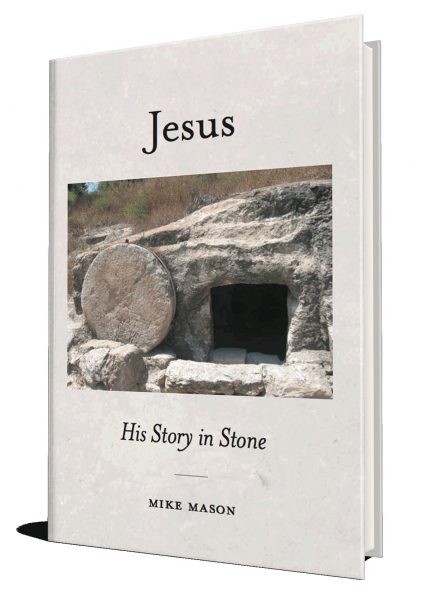 Jesus: His Story In Stone is a meditation on stone objects in the Holy Land that Jesus would have known or touched. Arranged chronologically, the two-page chapters compose a portrait of Christ as seen through the significant stones in His life, from the cave where He was born to the rock of Calvary. Packed with historical and archaeological detail, the main thrust of this book is devotional, leading the reader both spiritually and physically closer to Jesus.
From the Preface:
"Nothing is more redolent of the presence of a loved one than his personal effects: physical objects that formed a part of his daily life, things he knew and handled. In the case of Jesus we have precious little like this—unless we cling to such possibilities as the Shroud of Turin, the Sudarium (or face-cloth) of Oviedo, multiple fragments of the "true cross," and so on.
"Yet we do have firm evidence in the form of rocks. In Israel we can walk on stone steps and roadways where Jesus Himself almost certainly walked. We can view the cave in which He was likely born. We can look into the interior of Peter's house, the scene of many miracles. We can touch the rock of Calvary, or the rock on which the resurrected Christ served breakfast to His disciples.
"This is the territory of this book: still-existing stones that stand as mute witnesses proclaiming: Jesus was here. Rocks are the photography of antiquity, the closest we have to an evidential record of past ages. There are no photographs of Jesus or His surroundings, no audio recordings, no YouTube videos. But we do have a trail of rocks that tell His story in stone."
Available in hardcover, paperback, or e-book (Kindle, Nook, iBook)
N.B. When ordering this book on Amazon, please ignore any warnings such as "Out of Stock" or "Temporarily Out of Stock." This is a Print-On-Demand book and so is always available. Also available at Chapters. 
"As someone who has studied the Gospels in both academic and church settings, I have experienced how quickly the material about Jesus' life can become ethereal and abstract. Mike Mason does a beautiful job of bringing the devotional together with the physicality of the Incarnate One living and working and loving in very real places in very real times. Karen's photography artistically adds to the effect. This is a book that I will go through again and again, and will put into the hands of anyone I know who is sharing in Jesus' continued journey of grace." -Rev. Brian Boisen
"Mike Mason always has a way of seeing things differently, from profound angles, noticing nuggets of truth where you never thought to look. Make sure you don't miss this collection of deep insights and thorough research." -Andrew Case
"This jewel of a book is a unique combination of devotional and travel guide. I don't know if there are many of us who have the ability to listen to rocks. But this a talent of the author of this book, and he has heard well." -Chris Hansen
"I feel like I went to the Holy Land just reading Mike's book. His insights are deep and powerful … ones I've never heard!" -Greg Leith
Read an article on how this book began: "Pilgrimage Reignites Retired Author's Passion"