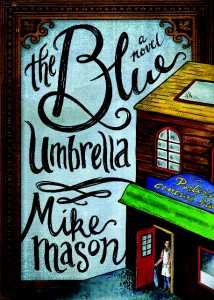 The life of ten-year-old Zac Sparks changes overnight when his mother is killed by lightning and he's sent to live with two cruel old Aunties. The one bright spot is Zac's friendship with a mysterious storekeeper, Sky Porter, who always carries a blue umbrella. One day Sky takes his young friend up to the store's supposedly haunted second story to reveal the umbrella's amazing secret…
Explore with Zac the mysteries of Porter's General Store in the little town of Five Corners. Meet characters such as Pethybridge, Chesterton Cholmondeley, Esmeralda Henbother, and O––all as fascinating as their names. And come up Wind Mountain with Zac as he confronts the Aunties' terrifying father, Dada.
A superbly written children's fantasy novel with deep spiritual resonance, The Blue Umbrella sits well on the shelf beside The Lord of the Rings, The Chronicles of Narnia, or even Harry Potter. Yet just as those classics stand out for being utterly original, so this book will cause readers to say, "I've never read anything quite like this before." Nominated for a Christie Award.
"As a novelist, Mason has it all: vivid and convincing characterization; engaging dialogue; absorbing and unpredictable plotting with an underpinning of serious concerns; humour which entertains without distracting one from the narrative; and above all, a fine writing style…. It's no exaggeration, in my view, to call this book a classic for fantasy lovers of all ages." -David F. Dawes
READ OTHER COMMENTS ON THE BLUE UMBRELLA.