Winner of the ECPA Gold Medallion Award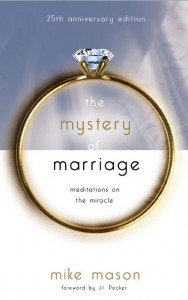 Married couples, whether we realize it or not, are involved in a drama of intimacy that is very like the progress of the soul's relationship with God. God Himself is not a bachelor, and marriage on earth reflects the very love He has for Himself in the Trinity. Inspired by the great classics of devotional literature, this book explores, in profound and poetic writing, the dynamic correspondence between marriage and the great invisible realities of the Christian faith. In a marriage market flooded with 'how-to' books, this one dares to be something different: a 'how-come' book, a meditative inquiry into 'the mystery of marriage' with a view to renewing and refreshing married love at its source.
With more than 250,000 in print, and translated into 30 languages, this book is now in its third edition. It is used as a text in many college, seminary, and church marriage courses.
"The 'Mere Christianity' of marriage books." – Ted Olsen, Online Managing Editor, Christianity Today.
"An outstanding achievement. Rarely has a book aroused in me so much enthusiasm as has the combination of wisdom, depth, dignity, and glow that I find in these chapters." – J.I. Packer
"Absolutely exquisite. It reaches down deep into our innermost being, revealing, revitalizing, rewarding. A real classic." – Gigi Graham Tchividjian
"A drop-everything book. Mason deals with the stunning paradoxes of the mystery, the problems, and the glories of marriage. I don't need to read any other book on the subject." – Elisabeth Elliot