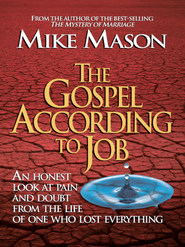 The Gospel According To Job is a devotional commentary on the Old Testament book of Job. Arranged as a series of two-page meditations on selected quotes, it is intended for people who are experiencing deep suffering, doubt, and a sense of separation from God. When you're in such a place, do you condemn yourself, wallowing in all that you've done to deserve your lot? Or do you go to the other extreme and try to justify yourself?
Job did neither. In the face of his own traumatized emotions and the accusations of his friends, Job clung to the hope that the Lord Himself would vindicate him. With prophetic prescience, he seemed to know the gospel, letting the cross of Christ absorb and absolve all his guilt. And so, hundreds of years before the New Testament, Job set a pattern for how Christians are to travel through the vale of suffering.
In this book you'll find that it's okay to doubt, to be confused, to get angry––in short, to be completely yourself. For God's mercy is the permission to be human.
"The profundity of the insights into spiritual life that Mike Mason draws from Job is stunning. What Oswald Chambers once did well, though briefly, Mason has now done better, and on a grander scale. Every way, this is a five-star book!" – J.I. Packer
"A keen probing of that personal encounter with God which cannot take place except through the mystery of suffering. Blunt, bold, shocking, yet tender, humble, and––who can deny it?––the straight truth. Mike Mason has paid the price." – Elisabeth Elliot
"I have never been impacted so dramatically as I have by The Gospel According to Job. It's my favorite book—ever!" – Tom Perkins
"Second only to the Bible, this book has become my favorite to read for insight, deep wisdom, and to discover over and over again the true meaning of the New Testament." – J.D. Farmer