What's your favorite potato chip? Mine is Miss Vicky's lime and black pepper. Does this matter? Absolutely! Sometimes little things can make the difference between connecting with God, or not.
Read on, in this excerpt from a book I love—Loretta Ross-Gotta's Letters from the Holy Ground: Seeing God Where You Are, which describes her experiences in a hermitage:
My husband and I had this old Toyota pickup. We kept it to haul things to the dump. For a while I drove it around town and out to the hermitage. It didn't have second gear, so it took a little finesse at slower speeds.
There was something about that pickup that stripped away my arrogance. One day when I bounced out to the hermitage to pray, I left behind the healthy "correct" retreat provisions: juices, bottled water, nuts and seeds in biodegradable bags. Instead, I tossed in a bag of Sterzing's potato chips.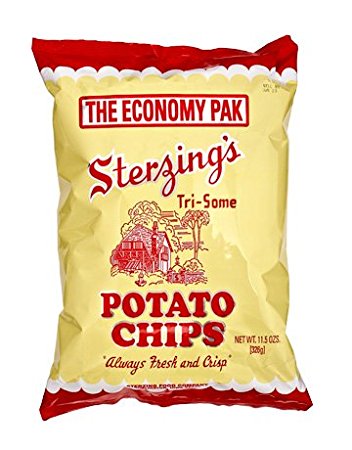 These chips, made in Burlington, Iowa, are the chip of my childhood. In thirty some years, the red-and-white bag has remained the same. On the front is a cottage of the sort where Snow White might live and the words Tri-Some! cheerfully beckoning. Sterzing's prospers, fueled by the nostalgic memories of school lunch bags and family picnics. The chips, like us, have no redeeming qualities about them beyond being the best in God's good world.
When I got to the hermitage I pulled open the bag, breathed in the incense of its contents like a pleasing offering, and put my feet up on a prayer stool. Swilling a can of Pepsi and munching away, I hung out with Jesus. For some time I had thought that there might be a right way and a wrong way to pray, and I practiced several methods in the hope that I would get it right. But just hanging out, comfortable and satisfied, unadorned, weather-beaten, and world-weary, I was at the end of technique and the beginning of a relationship.
Reading this passage, I'm reminded of St. Thérèse of Lisieux, who wrote in her memoir, Story of a Soul: "For me to become great is impossible, but I will seek out a means of getting to heaven by a little way. We live in an age of inventions; nowadays the rich need not trouble to climb the stairs, they have elevators instead. Well, I mean to try and find an elevator by which I may be raised up to God, for I am too tiny to climb the steep stairway of perfection."
The gospel—the good news of salvation by faith alone in Jesus Christ—is the elevator to God. If you want to improve your physical condition, take the stairs. But if you want to grow spiritually, take the elevator. If you must climb, take the way of the cross. The cross is a ladder to heaven with just one rung: faith.
Next Post:  Marriage: A Fire of Roses