I love Christmas stories. Besides having several shelves full of Christmas books, I have an annual tradition of writing a new story to send out as a greeting to friends.
My friend Susan Delong also loves Christmas stories, and each year she chooses a special one to read to her family on Christmas Eve. "Often I select a story," she says, "because it connects with something that has happened in the family that year."
Susan's Christmas Eve story tradition stretches back many years . Each year she records a summary of the story she read, and a brief account of her thoughts about it. She includes other details of the evening, including who was there, what they ate, what they sang, the general ambience. Then, after producing a good copy of this journal entry, along with a copy of the story, she presents it to each of her children for inclusion in a looseleaf scrapbook. What a treasure is this record of family Christmas Eves!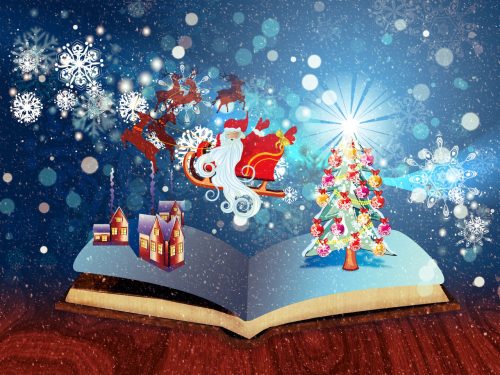 To illustrate, here is what Susan wrote for Christmas 2009:
"Christmas Eve found us with a full house. Not only did Rachel, George, Paul and Lochlann join us from Cranbrook, but Jennifer and David brought along Oma to spend Christmas and Boxing Day with us. After attending the candlelight service at Grace Baptist, we settled down in front of the fire to listen to our annual Christmas story while we munched on a wide selection of cookies, tarts, and squares.
"This year's story was The Beautiful Christmas Tree by Charlotte Zolotow. It is a story about how a peculiar man moves into a rundown house on a city street and not only cleans up the house but also plants a scrawny little pine tree one Christmas. As Mr. Crockett cares for his sapling he says, "Living things need love and care." As the tree grows, he extends that love and care to the birds by scattering food for them around the tree. One Christmas Eve carolers sing outside Mr. Crockett's house, startling the birds in the pine tree. When they settle back onto the tree's branches, they look like living ornaments with a white dove on top. As Mr. Crockett watches this from his window and hears the carolers and the birds singing together, he calls it "a chorus of love" and knows that "this is what Christmas is all about."
"When we came to the part in the story about the carolers, we sang 'Joy to the World':
Joy to the world!  The Lord is come!
Let earth receive her King;
Let every heart prepare him room,
And heav'n and nature sing. 
"Then, when the story was over, I read 1 Corinthians 13:
Love never gives up. Doesn't keep score …
Love cares more for others than for self …
Love doesn't want what it doesn't have;
Takes pleasure in the flowering of truth … 
"It was a beautiful moment and we all basked in the glow of the presence of Christ."
Hearing of Susan Delong's tradition, how I wish I had done the same and kept a record of all the Christmas Eves in our family! Truly, thanks to the Birthday Boy, each one has been a precious and magnificent time. When I suggested to Susan that she might develop her Christmas journal into an actual book, she demurred, but she did offer to share her journal entries with me. I couldn't be happier!
I mentioned my tradition, now thirty years old, of writing my own Christmas stories, a few of which have been featured in Susan Delong's Christmas Eves. My best stories have been collected into a book, Twenty-One Candles: Stories for Christmas. One of these tales, called "In the Stillness of the Night," was inspired by an incident that happened to Susan's husband, Alan, while playing his penny whistle in an old railway tunnel. If you've ever visited the Othello Tunnels in Hope, B.C., you'll recognize the setting. Thanks, Alan and Susan, for your friendship and inspiration.
Next Post:  Good morning God. What do you want to tell me today?