Colored lights appear, secret packages arrive, and the sound of distant (very distant) sleigh bells can be heard drifting down from the north.
With December just around the corner, I know all of you are eagerly awaiting the big event of the season: the annual Mike Mason Christmas story!
Alas, I shall not write a new story this year. Instead I present you with my "Christmas Shelfie." An inveterate Christmaholic, I have a large collection of Christmas books from which I've chosen a few favorites to display and annotate for you. It's an eclectic selection, from Charlie Brown to Tolkien to Susan Wojciechowski (who?). 
I'm publishing this early in case you want to track down one or two of these books before Christmas, especially the Advent devotionals. As Advent begins on November 27, let's start with three superb collections of daily reflections (two with paintings) that will take you right through Advent to Epiphany: 
God With Us: Rediscovering the Meaning of Christmas, by several authors including Scott Cairns and Eugene Peterson.   
Watch for the Light: Readings for Advent and Christmas, by multiple authors.
The Art of Advent: A Painting a Day from Advent to Epiphany, by Jane Williams. 

Next I have to mention The Christmas Forest by Louise Fatio. As the sole book that survives from my own childhood, for me this one is replete with nostalgia. While I don't necessarily recommend it, I include it to invite you to make a mug of hot chocolate, add a candy cane, and revisit some special story from your own preliterate days. 
For a simple version of the Christmas story, which you can also display on your mantel as a progressive crèche, check out Tomie de Paola's pop-up book The First Christmas. 
The Christmas Miracle of Jonathan Toomey by Susan Wojciechowski is maybe the closest we'll get to a modern Christmas classic. A snowy village, a woodcarver, a widow, a young boy, love and death, a Christmas Eve miracle, a perfect five-star rating on Amazon—need I go on? 
The Wizard's Tide is my favorite book by one of my favorite Christian authors, Frederick Buechner, who died this year at 96. A beautiful, lightly fictionalized memoir, it ends very movingly at Christmas. 
Other Bells for us to Ring, by the wonderful author Robert Cormier, is a YA book about a wise nun and a teenage girl. Set in WW II, it's a profound portrayal of the girl's hesitant journey toward faith. 
Miracle on Tenth Street: And Other Christmas Writings is a posthumous collection from Madeleine L'Engle, full of treasures, of which the highlight for me is the last story, "The Twenty-Four Days Before Christmas." 
Next a picture book, Great Joy by Kate DiCamillo. First-class author, gorgeous pictures, and a touching tale—what more could you want from a story perfect for reading to the family on Christmas Eve?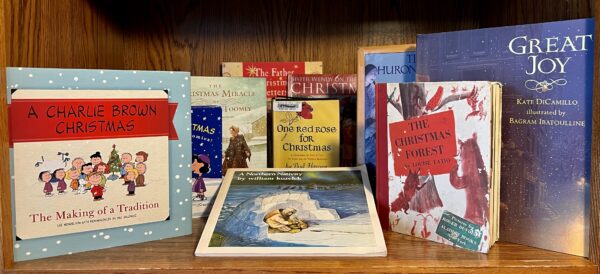 I have a number of good anthologies of Christmas stories. One of the (self-declared) best is The Greatest Christmas Stories of All Time, which contains one of my favorite stories of all time (hard to find in a printed version, though available online): "Stubby Pringle's Christmas" by Jack Warner Schaefer. 
I also have several anthologies of Christmas poems, of which a fine one is The Oxford Book of Christmas Poems. I ordered my copy online, and when it arrived I was thrilled to see that it had been pre-owned by the poet Luci Shaw. 
Do you remember Sister Wendy? An English nun who lived as a hermit, she's a wonderful spiritual writer, hugely popular back in the '90's but now, sadly, largely forgotten. Sister Wendy on the Art of Christmas gives us her meditations on a dozen classic paintings that tell the old, old story. If you're like me, once you meet Sister Wendy you'll want to read everything she wrote. 
The Huron Carol, illustrated by Frances Tyrrell: No doubt you know this hauntingly beautiful carol—"Twas in the moon of wintertime"—penned by the Jesuit missionary Father Jean de Brébeuf in 1642. But the illustrations in this edition are so wonderfully sumptuous as not to be missed. 
If you don't know J.R.R. Tolkien's Father Christmas Letters, you're in for a treat. Written annually to his young children, these epistles from the North Pole are tender, ingenious, madcap, uproarious—add as many adjectives as you like—and all illustrated with Tolkien's own inimitable art. 
Now for a couple of books that may be difficult to find, but I simply must include them: One Red Rose for Christmas by Paul Horgan is a poignant story about the Mother Superior of an orphanage who learns a lesson of love and forgiveness from a difficult young girl. And Snow Over Bethlehem by Katherine Milhous is an exquisite tale of Moravian children in Pennsylvania in 1775, saved from disaster by Christmas trombones.
If I had to pick one book to take to a desert island on Christmas Eve, it might be A Northern Nativity by William Kurelek. Like no other book I know, these paintings and text transport one into the heart of the mystery of the incarnation. 
You'll notice some glaring omissions in this list, passed over only for being so well known. Is there any need to sing the praises of A Christmas Carol, A Child's Christmas in Wales, The Best Christmas Pageant  Ever, The Nutcracker, or The Polar Express?    
Similarly, no one needs to be told to watch "A Charlie Brown Christmas." But I wonder if you know the book subtitled The Making of a Tradition, by Lee Mendelson, which includes both the script of the TV show and tons of info and photos about the show's production, including chapters on cartoonist Charles Schulz, animator Bill Melendez, and composer Vince Guaraldi. And if you still crave  more of a Peanuts fix, get The Joy of a Peanuts Christmas: 50 Years of Holiday Comics. 
For those with a more sophisticated literary taste, I recommend Joseph Brodsky's Nativity Poems. A Nobel laureate, Brodsky had a tradition of writing a Christmas poem every year. Though he was not a Christian, this may be all the more reason to celebrate his fascination with Christ.
Finally, how could I resist mentioning my own book, Twenty-One Candles: Stories for Christmas. And since this is a selection of favorites, my own favorite story in that collection is "In the Stillness of the Night." 
Well, I could go on and on, but since I have to end somewhere I'll leave you with seven lines from Shakespeare's play Hamlet. To my knowledge, this is the only direct reference to Christmas in all of the bard's works. Here (in Act I, Scene i), Marcellus speaks to Horatio and Bernardo after seeing the ghost of Hamlet's father: 
Some say that ever 'gainst that season comes
Wherein our Saviour's birth is celebrated,
The bird of dawning singeth all night long;
And then, they say, no spirit dare stir abroad,
The nights are wholesome, then no planets strike,
No fairy takes, nor witch hath power to charm,
So hallow'd and so gracious is the time.
Now here's a final shelfie with a few more from the collection …
Wishing you all a hallowed and gracious Advent and Christmas!