Christmas Eve, Constantinople, 505 AD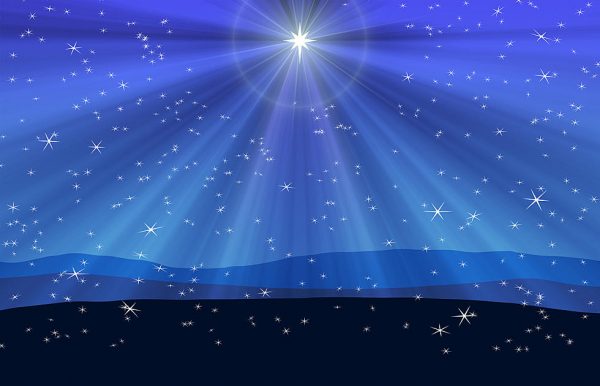 Stars shine brightly,
but not for Deacon Romanos,
whose heart is weighed with woe. 
He decides to retire early,
let the rest of the city celebrate
the coming of the Light
while he embraces dark
on a mattress of straw. 
Towards midnight he dreams
a dream so real that when he
awakes he cannot tell
whether he slept or no—
for the Virgin Mary
in gossamer blue appeared
and handed him a scroll,
which he ate, and now
the great bell at church 
rings twelve: it's Christmas!
and the Virgin's words burn
within him, a sweet, holy fire.
Praising God, quickly he rises,
dresses, rushes into the bright night
straight to the church where all
falls still before his glowing face
as he mounts the pulpit
and proceeds to deliver
his first kontàkion—
a sermon in verse:  
     Today the Virgin gives birth
     to Him who is above all being,
     and the earth offers a cave
     to the Unapproachable One! 
     Bethlehem has opened
     Eden—come, let us see!
     We have found delight in secret,
     come, let us receive the joys 
     of Paradise within the cave!
     Angels and shepherds give glory,
     and magi journey with a Star,
     for to us has been born
          a little Child, God before the ages. 
     Star in appearance, Angel in intelligence,
     it came with the magi to serve Him
     and still it stands fulfilling its office
     showing by its rays the place He was born
     As Balaam said, a Star would dawn,
     a Star to quench all prophecies,
     to illumine the parables of the wise
     and all their sayings and riddles,
     a Star far more brilliant than the star
     that has appeared, for He is the Maker
     of all the stars, of Whom was written
     of old: 'From Jacob there dawns
          a little Child, God before the ages.'
These are but a few stanzas from the "Hymn of the Nativity" by the great Byzantine poet and composer Romanos the Melodist, who like the first English poet, Caedmon, received his call to poetry in a dream. After that inspired Christmas Eve, Romanos would go on to compose many more kontàkia, the name given to this genre of versified sermon which he made famous.
Next Post:  The Three Fools: An Epiphany Story