As a young teenager who was just discovering the joys classical music, I decided to join the all-male choir at our Anglican church, where every week a Welsh choirmaster brought forth the beautiful sounds of English choral music from a handful of men and boys.
At my first choir practice we rehearsed one of the most gorgeous anthems ever composed: "Thou Wilt Keep Him in Perfect Peace" by Samuel Sebastian Wesley. The title is drawn from Isaiah 26:3:
          You will keep him in perfect peace
          whose mind is stayed on You,
          because he trusts in You. 
It was a clear, breezy autumn evening, and in the silences one could hear the old church building creak and dry leaves scuttling along the sidewalk outside the hall, wherein were gathered a dozen boys, ten men, and Gwilym Bevin directing from the piano. Although I was not yet a Christian, as we sang over and over those words about perfect peace, that message went to my heart, where it has remained ever since. In fact, if I had to choose one Bible verse that best characterizes my entire relationship with God, this would be it. For me, Isaiah 26:3 is what some believers call a "life verse"—a single passage which so touches the soul of one's individual spirituality that it keeps on speaking year after year, growing and deepening in significance, guiding, encouraging, challenging.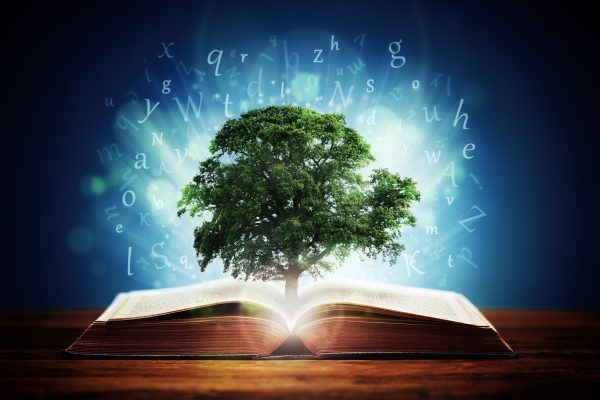 When my wife's parents passed away, we inherited their Bibles, both of which are large and heavily marked from years of study. In some cases passages are not only underlined but include the notation of a date, indicating that these verses spoke to the reader at a certain time. These words were not just logos but rhema: that is, not only God's word but His specific word to an individual on a particular occasion.
The Greek word rhema literally means an utterance. In the New Testament it refers to a divinely spoken word, as in Luke 3:2: "The word of God came to John."
I was reminded of rhema recently when I came across a passage from Uncle Tom's Cabin by Harriet Beecher Stowe:
As for Tom's Bible, though it had no annotations or marginal helps from learned commentators, still it had been embellished with certain way-marks of Tom's own invention, and which helped him more than the most learned expositions could have done. It had been his custom to have the Bible read to him by his master's children, in particular by young Master George; and, as they read, he would designate, by bold, strong marks and dashes, with pen and ink, the passages which more particularly gratified his ear or affected his heart. His Bible was thus marked through, from one end to the other, with a variety of styles and designations; so he could in a moment seize upon his favorite passages;—and while it lay there before him, every passage breathing of some old home scene, and recalling some past enjoyment, his Bible seemed to him all of this life that remained, as well as the promise of a future one.
Personally, I don't write in my Bible, nor in any other book. It seems to me a desecration, and it spoils the possibility of the passage appearing entirely fresh upon a subsequent reading. Moreover I'm not fond of red letter editions of the Bible. Nevertheless, years ago a publisher sent me a complimentary copy of their new Bible, which happened to be a red letter edition. It was such a beautiful, leather-bound, gilt-edged volume that I have used it to this day for my own devotions.
So I'm used to the red letters—so much so that I would like to propose the addition of a second color: green. These green passages would have to be colored by readers themselves with a highlighter. For these would be the rhema words of God, divine words spoken personally to each individual. As Jesus said, "It takes more than bread to stay alive. It takes a steady stream of words from God's mouth" (Mt 4:4, The Message). This personalized version of scripture I propose to call the Green Letter Bible.  [To be continued.]
Next Post:  Part 2 of "The Green Letter Bible"