Ron Reed, the Artistic Director of Pacific Theatre in Vancouver, has written a splendid Foreword to my new book Twenty-One Candles. Ron or I will be reading from my book at all the performances of Christmas Presence, PT's annual celebration of the season with an evening of stories and wonderful music. Find out more on the PT website. And here's Ron's Foreword: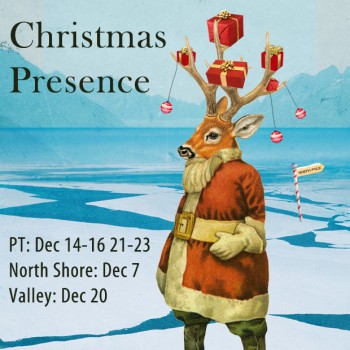 Reading through this book, after almost three decades of friendship with Mike and his stories, I am crowded with feelings, memories, insights.
Loren Wilkinson introduced us, and I felt a kind of awe in meeting a man who made his living doing nothing but writing. I was early down the road of living as a professional artist – in my case, the art form was theatre – but already it was clear that my road would be cluttered with the many distractions that come in the business of running a theatre company. To the point where not much time gets spent actually creating the work.
Not so for Mike. Thirty years later, this is still what he does. Mike writes. He keeps the distractions of life, the machinery of "having a career," to a minimum – so that he can write. Think deeply, feel vividly, and write.
If you know Mike's masterful book The Mystery Of Marriage, you know that he has always been drawn to the monastic life. And while marriage and fatherhood and friendships and church and other enthusiasms have pulled and pushed, Mike has pursued his art with a simplicity and a singleness of purpose that is clearly vocational, in very nearly the same sense as a monk or priest.
These stories grow out of simplicity, silence, solitude. Informed by enough everyday, in-the-world experiences, interactions, struggles to keep them real. Yet nurtured in a life with enough space for thought, contemplation and fancy to let them go deep.
This lends his stories a peculiarity, a distinctiveness, that makes them arresting. Reading – or, even better, hearing – a new Mike Mason story will never feed me food I've already tasted. Mike straddles two worlds, the quotidian and the eternal. The same two worlds we all of us straddle, of course. It's just that Mike gives so much more time and attention to that latter world than most of us do, and it permeates his writing, marking it as something that comes almost from another culture, or another era.  And of course those two worlds aren't separate worlds at all – and the reality of that intermingling, that co-existence of the mundane and the mystical is perhaps the recurrent theme of Mason's writing.
And when is that elusive truth more at the centre of things than at Christmas? When Eternity dons flesh, when "the Father of all mercies puts Himself at our mercy," the Emmanuel moment when God becomes human, "the high and lifted up becomes low and helpless," and the earthy realities of birth and death and taxes get all caught up in momentous heavenly events that defy understanding – or even belief, at times.
So it's no wonder that Mike is drawn to Christmas. For him, it's the best of times and the worst of times, with "sensitive souls caught in the machinery of a fraught festival," as he so perfectly puts it – his own sensibility as sensitive as you will find. It's almost as though he lays himself bare to both the terror and the comfort of the occasion, and these stories are the raw reports back from those front line encounters.
The range is marvelous. "Three Fools" reads so well aloud, is so terrifically funny in front of an audience, we use it year after year in Pacific Theatre's "Christmas Presence" show – an exquisite contrast to Eliot's "Journey Of The Magi," say, or Frederick Buechner's "The Magnificent Defeat." And the remarkable thing is, his brash and silly (from "selig," which means "holy") piece absolutely holds its own next to the work of those masters – and brings wisdom and poetry of its own.  "Sometimes I Tremble" matches it step for step with its vivid opening paragraph, the economical story-telling of a good Christmas-table anecdote, and a zinger of a last line.
"The Ghost Of Christmas" achieves a truthfulness of characterization and a beauty of narrative arc that places it among my favourite literary short stories by any author. W.R. Wheeler is the sort of character who is routinely caricatured in literature, or at least condescended to. Mike strikes an extraordinary balance between observation and empathy: he knows W.R. (or people like him), he loves W.R., perhaps in ways he identifies with W.R. (for how can we love without seeing at least something of ourselves in the other?), and yet when he weighs W.R. in the balance, he finds him wanting. And yet…  This is one of my three favourite Christmas stories – right alongside Dickens and Capra (but not counting Matthew and Luke). And believe me, I read a lot of Christmas stories.
"Festival Of Lights" is an exemplar of the author's sensitivity to those inner realities that marks all his writing – with the sort of dramatic reversal, rooted in the mutability of the human heart, that somehow seems particularly apt at this season.
The darkness Christmas holds for many of us is evinced by "Crack," grounded in the actual experience of a mutual friend, but shaped by Mike's story-telling vision. "Miles" has a reckless inventiveness that suits a season that's all about whimsey and outrageous generosity, but which mostly gets at what it is to be a brother, or a friend, at the Christian festival which has come to be a celebration of our closest relationships, and our shared childhood. One might celebrate a meaningful Easter in solitude, on a spiritual retreat, but "Christmas alone" conjures mostly pity, or self-pity, and this crazy (and crazily touching) little story takes us to the centre of what it is to be family.
"The Christmas Letter" has all the friendly, yarn-spinning cadence of Canada's national story-teller, Stuart McLean – indeed, it reads particularly well aloud, and I'd love to hear Mr. CBC take a crack at it. But then the story veers off in a direction that's distinctly Mike Mason.  And "Bound For Glory" is almost a vision out of Kafka, or Tolstoy, or any of the Eastern European writers who know the darkness of life in times of real oppression – a dream-like dark fantasy that draws the reader in with an inescapable gravity. At a certain point one may sense where the story is headed – but one may also be wrong. And whether we guess right or we guess wrong, this is a vision conveyed with such force and artistry it achieves a mythic power that stays with us for a very long time indeed.  A fitting conclusion to a book of such invention and mystery; a fitting culmination of a season with such eternal resonance.
I've been present at the birth of many of these stories, and over the years have seen several grow into dear, lifelong friends. I'm a little envious of those of you who are about to encounter this trove of riches for the first time, and confident that you, too, will find stories here that will become part of your Christmas, and part of your own life story, for years to come.
Ron Reed
Artistic Director
Pacific Theatre
Vancouver