Artist Paul Hobbs has produced a series of thirteen 'icons' honoring Unknown Martyrs: ordinary Christians who have been persecuted for their faith.
Gathered into a booklet with reproductions and descriptions of each icon, the series is powerful and deeply moving. Here's just a sample, the first icon of Saint Mehdi from Iran.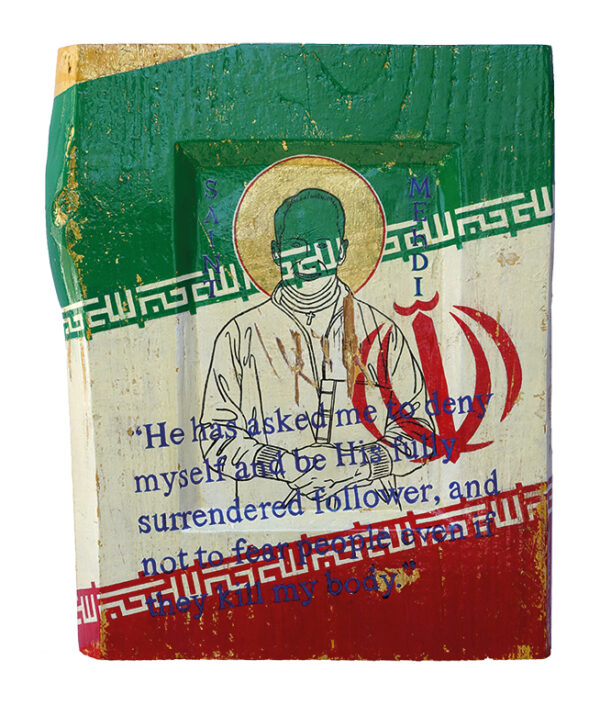 Church pastor Mehdi Dibaj was in prison in Iran for nine years from 1984 to 1993 on charges of apostasy—a crime carrying the death penalty under Iran's Sharia law. For two years of his imprisonment he was held in solitary confinement in an unlit cell measuring three feet by three feet. He was released after much international pressure in January 1994, but then abducted shortly afterwards. In July his body was found with stab wounds in a park in Tehran. He was aged 60. 
At his 1993 trial he gave an eloquent and respectful written defence of his conversion to Christianity, which included the words, 'He (Christ) has asked me to deny myself and be His fully surrendered follower, and not to fear people even if they kill my body, but rather rely on the creator of life who has crowned me with the crown of mercy and compassion'.
He is shown holding the Bible, to symbolise his faith and his leadership role as teacher and pastor. The panel has been violently stabbed to reflect the manner of his death. 
In the Iranian flag green symbolises growth, happiness and unity, white stands for freedom, and red for martyrdom. The motif is composed of a symmetrical form of the Arabic letters for 'Allah'(God) and overlapping parts of the phrase 'There is no God except Allah.' The tulip shape itself represents patriotism and self-sacrifice, and stands for those who have died for Iran. It refers to a legend that red tulips grow from the blood of martyrs. The fringe pattern on the borders of the stripes is a stylised script repeating the phrase 'Allah is the greatest' 11 times.
Paul Hobbs's booklet Unknown Martyrs is available on his website: www.arthobbs.com. The cost is £10.00 (or 5 copies for £40.00) plus postage outside the UK. 
Next Post:  Saint Dave: Memories of a Childhood Friend