Jesus, deeply moved, came to the tomb. It was a cave with a stone laid across the entrance. "Take away the stone," He said. –John 11:38-9
Someone you dearly love has died. You've had the funeral, buried your loved one in the cemetery, and finally had a granite tombstone beautifully carved and placed over the grave. Then someone comes and says, "Take away the stone."
What are your feelings? Impossible to describe: horror, dread, a sliver of mad hope. Everything at once.
Martha, the ever-practical sister of Lazarus, covers up her emotions by expressing concern about the odor: "He has been dead four days," or as the King James Version puts it, "He stinketh". Jesus replies, "Did I not tell you that if you believed, you would see the glory of God?" (vv 39-40)
The modern town of Bethany (called in Arabic al-Eizariya, the place of Lazarus) is still right where John says it was, "less than two miles from Jerusalem" (v 18) on the southeast slope of the Mount of Olives. Jesus would often have walked over the hill to visit or stay with His friends there. The family of Martha, Mary, and Lazarus may have been closer to Jesus even than His own disciples. These friendships stand out as the only ones we see Him enjoying outside His formal ministry. Simply put, "Jesus loved Martha and her sister and Lazarus" (v 5).
Early in the fourth century Eusebius testified that a cave-tomb in Bethany was venerated as the site of the raising of Lazarus. By the end of that century a church had been built there, followed by a succession of churches to accomodate the regular flow of pilgrims. While this traditional tomb cannot be proven authentic, it is part of an ancient cemetery that does certainly date from the first century. In the first photograph of the interior, note the flight of stone steps leading down into the tomb. Imagine the heavily bandaged man awakening and then having to get himself up those stairs. Was there, perhaps, a considerable delay between Jesus crying in a loud voice, "Lazarus, come out!" (v 43) and the astounding result?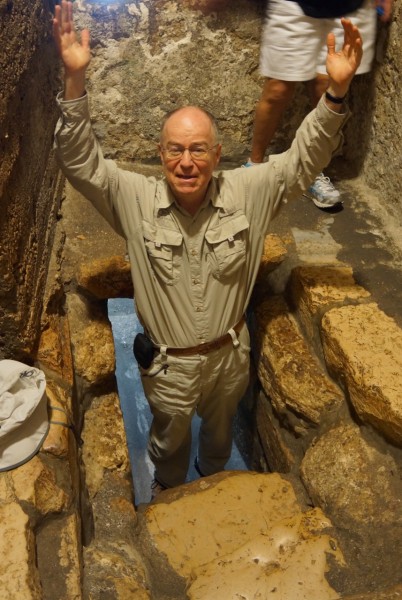 The morning I visited this site I hadn't slept well and was facing a long day ahead. As I emerged from the tomb I recalled an old adage—"Act your way into a feeling"—and decided to try it. Raising my arms, I shouted, "Hallelujah!" as my wife snapped my picture. Instantly I felt revitalized, filled with joy, and went on to have a wonderful day. Somehow in the photograph I appear almost to be levitating, literally floating out of the tomb!
The restoration of Lazarus to life came at the price of Christ's freedom, for after this great work "Jesus no longer moved about publicly among the Jews," as "from that day on they plotted to take His life" (vv 53-4). What a curious reversal of custom: Normally the authorities go after killers on the loose, but here they were concerned about someone who went around raising the dead.
The story of Lazarus contains the shortest verse in the bible, "Jesus wept" (v 35), and also the longest. The longest is, "Take off the grave clothes and let him go" (v 44)—for the liberty of those whom Jesus has released from death goes on forever.
Photo #1, Anon., ChristusRex.org
Photo #2 by Karen Mason
Next Week:  Sand