Let's go to Bethlehem and see this thing that has happened, which the Lord has told us about. –Luke 2:15
The picture shows me entering the so-called "Door of Humility" at the Basilica of the Nativity in Bethlehem. This is the front door, the only door, at which one must bow to enter.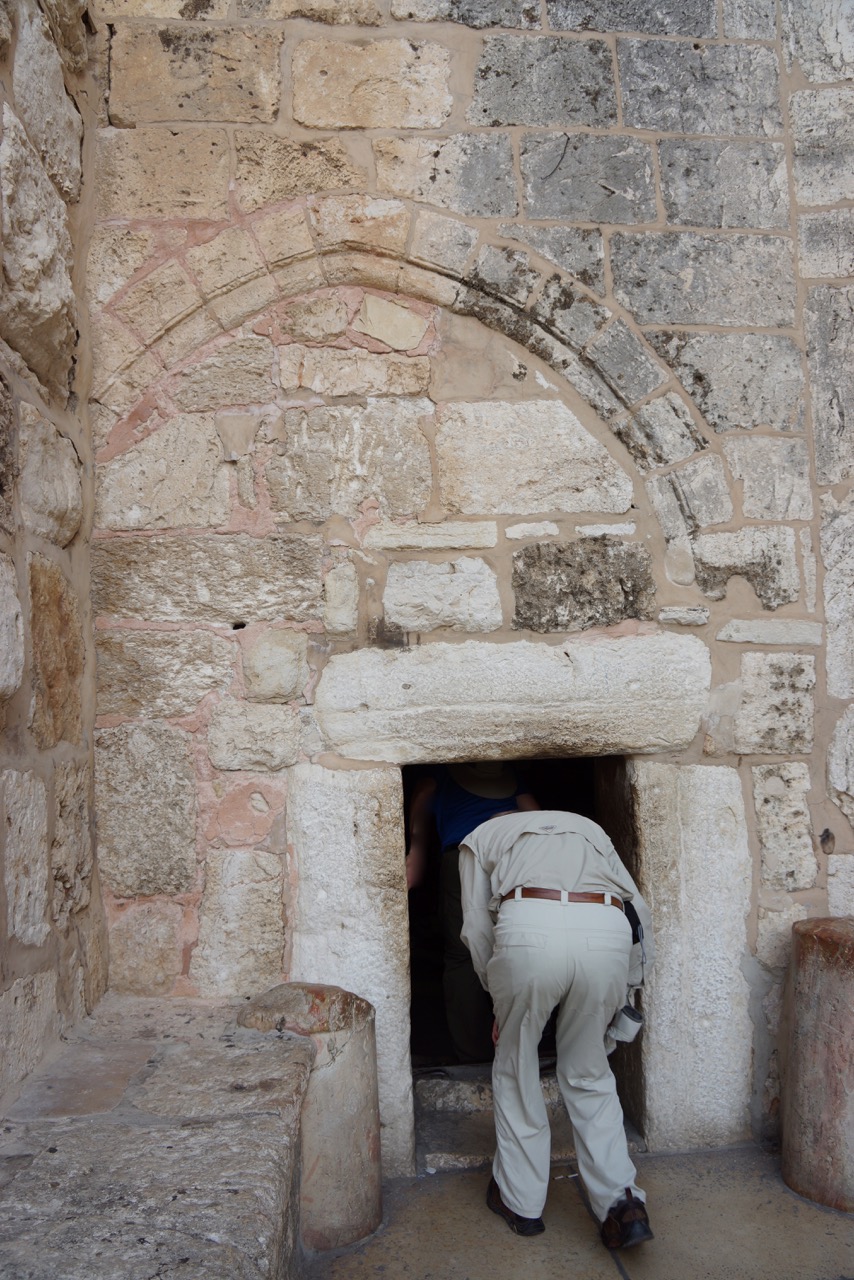 As love is the doorway to heaven, so humility is the door of love. How fitting that one must lower oneself to enter the place where God made Himself lowly, where He too bowed from heaven to earth. Two other main entrances have been walled up, and this one was reduced in the Middle Ages (notice the arch of the original doorway) and further reduced by the Ottomans to prevent the entrance of armed riders on horses or camels—a reminder that both the city of Bethlehem and this very church have been places of violent conflict. As recently as 2002 Palestinian gunmen barricaded themselves inside and waged a five-week battle with the surrounding Israeli forces.
The Basilica of the Nativity is the oldest church still in use in the Holy Land. It dates back to one built by Constantine in 330 AD, then rebuilt by Justinian about 535. Inside, this tired old building is much the same as it would have been in Justinian's time, despite many changes. The chief feature—a double colonnade of red limestone pillars quarried nearby—may date from the original church, and one can even peer through an opening in the present floor to see the Constantinian mosaic.
Naturally Jesus never saw this church—but He was born in it. That is, it's built over a cave where He is believed to have been born. I don't doubt this myself, because of a personal experience I'm about to relate.
That day in Bethlehem was the only bad day I had throughout my tour of Israel. I don't recall why, but when our guide told us we'd have to stand in line for two hours to see the Grotto of the Nativity, I knew I couldn't do it. I was completely drained. I had to get away from the crowds, sit down, close my eyes, and rest. Besides, I was frankly skeptical of this being the birthplace of Jesus. I could give it a miss.
Fortunately I found a quiet spot in the lobby of the neighboring Franciscan convent. I may even have fallen asleep. After a while I got a cup of coffee and eventually, though still feeling rotten, it seemed time to rejoin my tour group. Maybe things would work out for me to see the Grotto after all, though I felt pretty sheepish about asking to be let back into line. When I got there, however, they were gone!
Well, I had missed it. Too bad for me. I consoled myself with the thought that it wasn't worth seeing anyway. What did I need with another tacky tourist trap? Still, I was disappointed.
Suddenly I felt a hand on my shoulder. "Is something wrong, sir?" said a voice with a German accent.
"I've gotten separated from my group," I replied. "I think they must be up ahead in the Grotto."
"Well, you'd better join them," said this fellow as he propelled me forward into the midst of his own group, explaining my predicament in German. The next thing I knew I was being handed from one German to another, and then through a group of Japanese, and a cluster of Italian nuns, and through a people of unknown origin—all of whom took it upon themselves to thrust me forward through the line—and this in a place where my own group would later complain of the jostling and shoving! With all this assistance, finally I emerged into the Grotto of the Nativity.
Seldom have I experienced such a dramatic change of mood as I did upon seeing what you will see when you read the next chapter of this book. From a state of deep despondency, all at once I was filled with such wondrous peace and joy that I am convinced this is indeed the place where Jesus was born.
Photo © Karen Mason
Next week:  Grotto of the Nativity